When I go on a solo hike or even with someone, I tend to sing songs where I replace the lyrics with words related to hiking. It's usually after I've been on the trail for a while and I'm starting to get tired or parts of my body are beginning to ache. Well, with the Enchantments I sure did a lot of singing. I think my favorite song for this trail was Roots, Rock, Reggae, by the late great, Bob Marley, with roots and rock being the standouts. We just saw Bob's son, Ziggy do an awesome tribute to his father, so his music was fresh in my head. I didn't do Bob any justice by modifying the lyrics or with my horrible singing, but I sure did make myself laugh away the pain in my feet.
Roots, Rock, Rewards dis a trail is gonna kill me. Feeling like hiking, hiking 'cause we are free. Feel like hiking, come suffer this trail with me.

If you're thinking about hiking the Enchantments, either as a thru-hike or as a permitted overnight, my advice to you would be to get in the best physical and mental shape you can before heading out. I thought I was in decent physical shape, but it wasn't good enough. Of course, my mental state will always be questionable. The ultimate reward of doing this hike is the Enchantment's, Core Zone. It's definitely one of the top sights that I've seen in the 52 years I've been on this planet. However, my other planet actually has some wonderful views too.
I'm not going to tell you how to plan your trip to the Enchantments. Figure that crap out on your own you lazy ass! Relax, just kidding. There's already a lot of information on the web covering this. I'll help you out though and list some of my go-to resources that I found helpful at the bottom of this post. The main component I'll mention here is if you want to camp in any of the Enchantment zones you need a permit. Thru-hikes can be done with a day-use permit. The odds of landing an overnight permit in the lottery system are slim. This year I applied for the first time and anticipated it wasn't going to happen, but to my surprise, it did! Insert party dance here. You get to select (3) zones when you apply. Of course, everyone is aiming for the Core. The Core didn't pan out, but Snow Lakes did. I was in. See lottery stats here.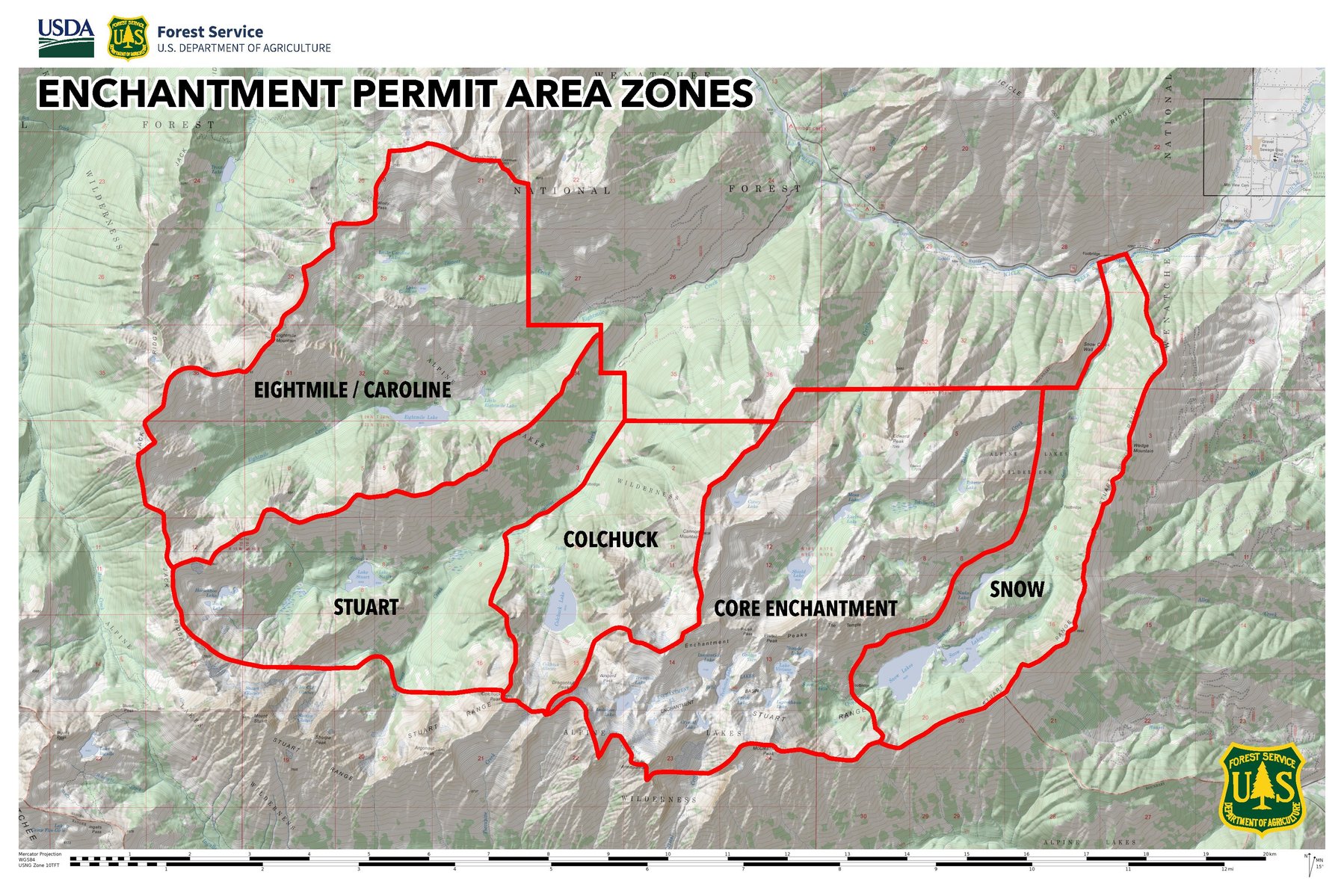 Not many of my close friends' backpack. I usually go solo. I actually don't mind being alone as I'm on my own schedule and enjoy spending time taking photos. Yet, this certainly was an experience worthy of sharing with someone. I really wanted my wife to go, but her backpacking days are done. I even offered to buy her a yellow lab puppy if she went, but surprisingly, the answer was still no. So, I hit up my buddy, Mark. Mark's an avid biker and hiker, and we did Mount St Helens together in 2020. He's not as cute as my wife, but if anyone would say yes, it would be him. He jumped on the opportunity. It was on March 17th that I found out I was successful in the lottery for the Enchantments. My entry date was September 26th. It seemed like a forever wait, but before I knew it September had arrived. The unfortunate news, Mark had a back issue and had to bow out. I was bummed, but I'm sure Mark was more disappointed. The good news, Mark is now back to cashing checks and snapping necks.
I drove up to Leavenworth, WA from Central Oregon on September 25th. It's about a 6-hour drive, and as you get closer, you can actually see the jagged peaks of Enchantments from US Route 97. This got my blood pumping. I finally arrived at Leavenworth, which is an adorable, Bavarian-themed town. I spent the night at the LOGE hotel in downtown Leavenworth before setting out on the trail the next morning. LOGE was great! It was a minimal hotel, but the rooms are nice and the staff was excellent. They have a café and beer bunker/garden onsite as well.
Day 1: Hiking to Camp at Snow Lakes
I started my ascent to Snow Lakes at 7:51 am. The elevation at the trailhead is close to 1,300 ft. The elevation of my campsite was approximately 5,400 ft. That's 4,100 ft. of gain which took place over 9 miles. I read that heading in from the Snow Lakes trailhead was a butt burner, but I didn't anticipate it to be such a laborious slog filled with lots of roots and rocks. Hence the singing of my bastardized version of Roots, Rock, Reggae. It was also suggested for Snow Lakes that you should just get to your campsite, set up, and call it a day, so that was my plan. I ended up finding a nice camp spot on the west end of the lake not far from Snow Creek, which was a great water source. The lake had nice views of the surrounding mountains.

Day 2: The Core

I didn't sleep well on my first night. I was excited to see the landscape that I had only seen online. I was out of my tent at 6 am and on the trail around 6:45. The climb to the Core started right at the very west end of Upper Snow Lake where the creek flows in. You cross the creek via a bridge and the work begins. On paper, it looks easy. Only about 1300 ft. and 1.7 miles stand between the base of Upper Snow Lake and the first lake you come to in Core, Lake Viviane. The 1.7 miles is intense though. Again, more roots and rock here, but rock dominates. Here you are doing lots of big steps up and route finding. Fortunately, the cairns really help you navigate your way across the granite rock. It was a challenge that provided a big payoff once at the top. Lake Viviane with Prusik Peak in the background was jaw-dropping. It was so beautiful that some strange water droplets formed in my eyes and flowed down my cheeks. I absorbed the landscape and was now fired up to keep going to see what lay ahead.

I had a little navigation trouble when leaving Lake Viviane. You had to traverse a tall heap of granite rock and it was hard to tell which way to go. After a few failed attempts I finally found the way. You'll most likely find yourself going off route occasionally when in the Core, but it doesn't take long to figure out that you made a wrong turn. The next lake along the route was Leprechaun Lake and it was just as charming. The Larches were starting to pop and some were already a lovely, golden yellow.
I pushed onward through the magical landscape. I thought I might run across some Elves from Rivendell, but my old bud, Gandalf who I passed by said they were out defending their land from those nasty Orcs.
(Since I didn't see the actual battle, I have no picture for you. You'll have to use your illusions and imagine Legolas in an intense fight scene with a bunch of hideous Orcs.)
Every step in the Core was like a postcard. The remaining lakes I saw were Sprite, Perfection, and Inspiration Lake. I turned around at Inspiration Lake. I thought about going on, but my feet were tired as well as my senses. I spoke with a fellow hiker at Inspiration who had done this route before and he said I saw the most spectacular part of the Core. He stated that turning around wouldn't be a bad thing. Perhaps he could tell I was running on empty.
The descent down to camp was another knee and foot-pounding adventure. I had planned to go to the Core (2) days in a row, but when I got back to my site there was no way I could do a back-to-back. I made the decision to exit on my 3rd day. I planned to exit on my 4th, but fell short. Another person I met said to plan on (5) days at Snow Lake if you want to go back up. This way you get a day of rest in between. The haul out was just as long, but with some great return views. Unfortunately, smoke began moving in from some distant fires as I approached the bottom and it was starting to smell.

Day 3: Back In Leavenworth

I ended up spending the night at LOGE again before driving back home on Thursday. When I got back to town, which is a 15-minute drive I went to see if my room was ready. It wasn't. It was only 2 pm and check-in wasn't until 4, so this was expected. I headed over to Blewett Brewing to enjoy a celebratory beer and have a bite. Blewett was awesome. Their beer is spot on and the menu consisting of salads and pizzas does not disappoint. The Cesar was perfect…tasty croutons and a to-die-for garlicky, Caesar dressing. The pizza, which I ordered later after checking into LOGE, was fantastic. If the above is your jam, do yourself a favor and check them out.

Food for Thought
My typical blah backpacking diet.
Helpful Links:

USDA Forest Service: Okanogan-Wenatchee Forest
Clever Hiker: Enchantment Lakes Backpacking Guide
Explore With Alec: Everything you need to Know to Backpack the Enchantments
GoWanderWild: Hiking the Enchantments-A Trail Guide
Snow Out West: Backpacking to Snow Lakes, The Enchantments, WA