I always love visiting Hawaii, so when my wife proposed heading to Maui for her birthday, I was like, hell yes! Once this was easily established, the brainstorming began. Fortunately, my better half loves to plan our vacations. Without her, I'd probably be sitting on the couch in my boxers watching re-runs of Jerry Springer. It wasn't long before our itinerary was set. The schedule loosely followed the below:
Eat - Mai Tai - Walk - Mai Tai - Beach - Mai Tai - Lunch - Mai Tai - Nap - Mai Tai - Dinner - Mai Tai(s) - Sleep
Well, that could've very well been the case if we were still in our early 20's, the actual plan was to accomplish the below:
· Road to Hana with (2) night's in Hana
· 7-hour photography workshop with Scott Reither (for this amateur)
· Snorkel tour of the waters around Molokini Crater
· Whale watching tour with the Pacific Whale Foundation
These were the main events. We typically like to do a day on and a day off. It's vacation. We don't like being constantly on the go, and besides, doing things takes money, and Maui ain't cheap.
The best decision ever was spending (2) nights in Hana. It's such a long drive. A beautiful one, but long. I can't imagine trying to pack everything into one day and driving back, but lots of people do. If you go, I'd highly recommend spending (1), if not (2) nights in Hana. It's also very peaceful there, unlike our next destination, Kaanapali, which was full of resorts and humans. On our way to Hana we saw so many waterfalls and lots of lovely views of the coastline. I actually spent around six dollars on an awesome tour that I found on an app called the Shaka Guide. It was a 6-12 hour guided audio tour of the Road to Hana that didn't require cell service. It was money well spent. If you go, download it and pay for a tour, and no, I'm not getting kickbacks. =) The only thing you'll need is a charger cable for your rig and hopefully a Bluetooth stereo system. We didn't have either, but the sound on the phone was okay and since we were staying in Hana, my battery just made it. If you were going to tackle Hana in one day, you'd definitely need some way to juice-up your device. Oh, and I failed to mention to make sure you don't forget to stop at Coconut Glen's for some off-the-wall ice cream made with coconut. I can still taste it! YUM!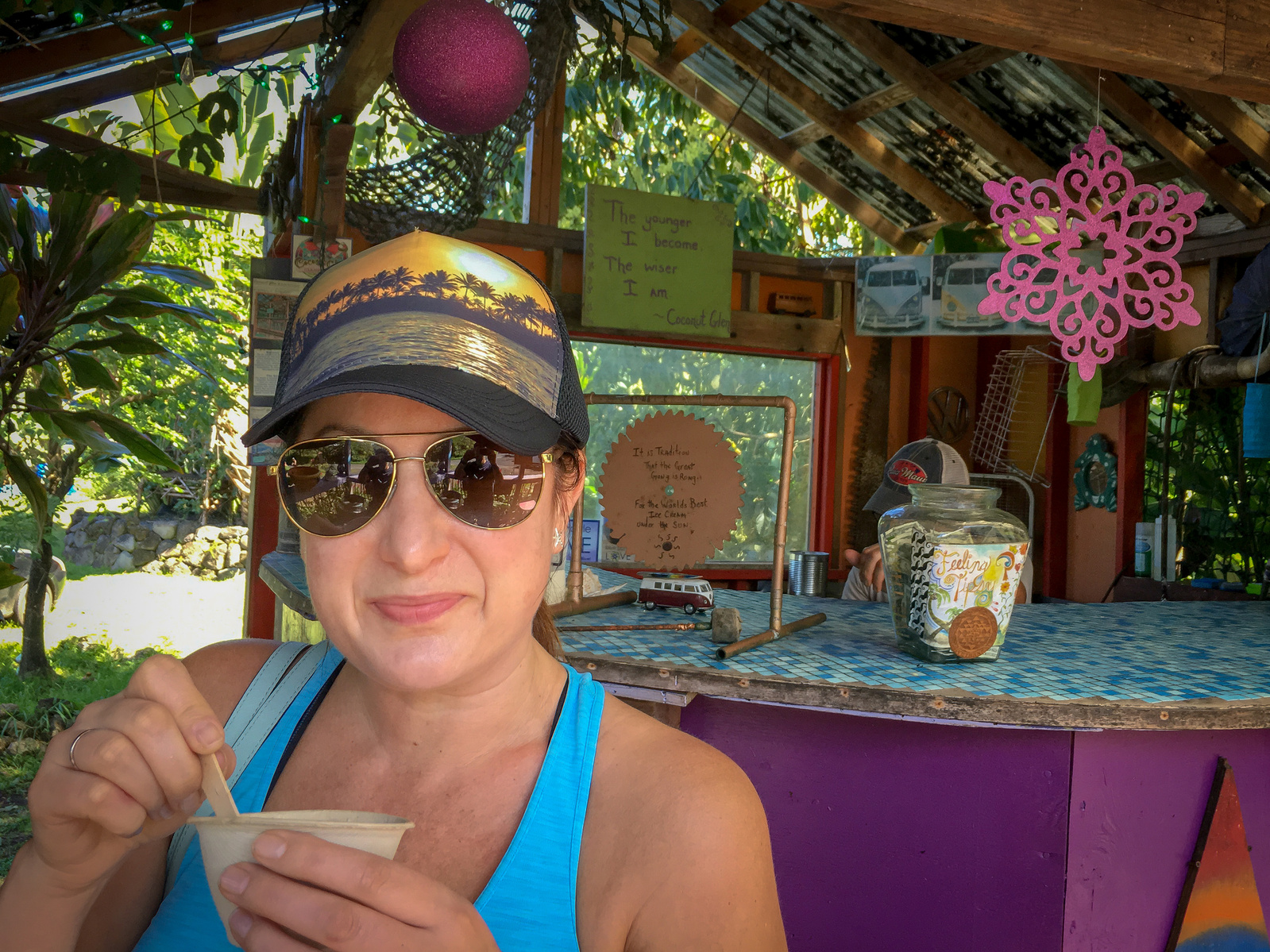 We arrived at our accommodations in Hana which turned out to have a beautiful view of Hana Bay. I managed to grab a few photos in the early evening and at sunrise. There were so many cool rock formations to check out. They weren't huge, but they were visually stimulating with the movement of the water.
For our first half-day in Hana we spent most of it at Wai'anapanapa State Park. Wai'anapanapa (yes it's a mouth full) had a beautiful volcanic-sand beach surrounded by some high cliffs that form a bay. It also had lots of short hiking trails to explore. It was a popular place too. It would probably be best to check out early morning or later in the day. We were there in the middle of the afternoon. The park also had tent sites and cabins that were well occupied.
The following day we finished the Road to Hana, which actually continues on after Hana. It led us past another significant waterfall named Wailua Falls and then to Kipahulu in Haleakalā National Park. While here, we hiked the Pipiwai Trail which deserves 5-stars. It included an enormous banyan tree, several waterfalls and the best, and only bamboo forest I have ever been in.
We made our way back down the Pipiwai Trail and explored the coastal region of the park. My wife had visited here about 10 years ago and was able to swim in the Pools of 'Ohe'o (aka Seven Sacred Pools), but they were off limits this time due to erosion concerns. It's still worth checking out, plus there are some breathtaking views of the coastline.
After eating a picnic lunch in the park, we had to head back to Hana for my doctor's appointment. I was at the tail end of a nasty cold prior to arriving in Maui that brought on an ever so joyous sinus infection. I rarely get sick, but this cold kicked my ass. I was so happy to find Hana Health. Doctor Wolfgramm and her staff were very hospitable. They had all of the meds I needed to kick this shit out of my system.
I ate some more food, took my meds and then we ventured out to find the "secret" swimming hole that we read about. It was a little off the beaten path, but you can find if you have the willpower. It was well worth the hunt. We arrived to find a few people heading back from a swim that said it was killer. When we got there, they were right. However, hardly anyone was there, no one was swimming and we couldn't figure out how to get out of the water if we took the plunge. Fortunately, some locals showed up to show us the ropes. They did some amazing cliff dives too! It was fun to watch and I was tempted to try, but my old, chicken-shit ass didn't want to risk another possible visit to the doc for something I'm not accustomed to doing. So, my wife and I choose to jump off some lower rocks; meaning about 5 ft. above the waterline. I know, candy asses. It was still one heck of a good time swimming in such a magical place.